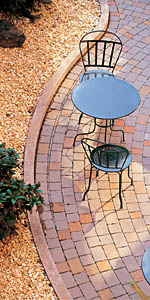 Many homeowners desire the high-end look of stone on their properties' walks and driveways. One way to do this is with interlocking concrete pavers - also called segmental paving. Interlocking concrete pavers use high-strength, durable concrete units that interlock together to form a patterned surface which can be put into service immediately.
Whether it involves a driveway, walkway, garden, or patio, your hardscape project is a major undertaking. Interlocking concrete and brick unit pavers and modular retaining walls will add substantial value to your home - and that you will be able to enjoy for years to come.
Interlocking concrete pavers are appropriate for any application that requires paving. These areas include patios, driveways, pool decks, sidewalks, parking lots, pedestrian plazas, roof plaza decks, medians, streets and industrial pavement. Let us show you how pavers will work for you.